Eela Audio D3 table top / 19" digital mixing console,

GENERAL SPECIFICATIONS:

24 inputs, 2 main outputs, 4 configurable stereo outputs,

8 input faders,

2 faders that can be used as main output faders, aux masters, or monitor fader,

Color touch screen for settings, e.q., dynamics, configuration,

Channel on "Start" button above each fader,

Broadcast audio and logical functions.

EA963 GPIO extender:

Opto isolated 16 General Purpose Inputs and 16 Outputs,

4 solid state relais to drive on-air or other signal lamps, mating connector included.

D25 connectors pinout compatible with D3.

D-Bus in/out, connected with standard CAT5 cable.

Wide range power supply.

GPIO breakout PCB:

The GPIO's are wired to DB25 connectors. In order to make the connections easier a breakout pcb with spring-clamps is available. This comes with a 1:1 25-way cable of approx 1 meter length.
This GB34 can be used with D3 or D4 digital mixing desks as well as with the EA963 GPIO extendere.

Downloads:

D3 product info
download
pdf. file

D3 Dimensions
download
pdf. file

D3 manual / functional description
download
pdf. file

D3 software manual download pdf file

D3 Audio block diagram download pdf. file

D3 PC software and driver download. (zip-file including manual)

D3 fimware update download exe file version 1.07
Eela Audio D3 manual and technical information.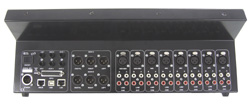 Eela Audio / EA Broadcast, Het Riet 8A, 5431NM Cuijk, The Netherlands


The D3 comes with a new front panel:

We are aware that most of our mixing desks are in daily use, often even 24 hours a day, 7 days a week. The durability of the control surface is very important. The new front panel consists of a steel base with thick aluminium front printed in alugraphics. In the eloxal process the pigments do not rest on the metal as with other printing techniques, but are embedded under the glass clear eloxal layer in the aluminium pores of the metal and are therefore lastingly protected


Latest update:

- Adjustable delay for up to 100 msec in both outputs to solve synchronization problems video.

- Built-in signal generator for pink noise or a sine wave, adjustable in frequency and level.

- A "signal present" LED per fader to indicate if there is a signal present at the input.

For a description of these features Download the pdf here.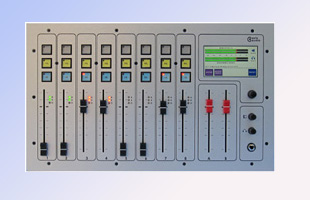 New:

Explore the features and possibilities of the D3 with the:

Active on-line manual
Tips & tricks for D3