Eela S50 Reportopmix battery powered microphone mixing desk.
S50 Portable mixing desk

The S50 is an very rugged, battery powered professional mixing desk. Applications vary from recording high quality classical music, film sound recording to covering extreme sports events under harsh conditions.
The S50 has all the features a professional will need in the field:

- 4 microphone / line inputs with 48 Volt phantom powering,
- Full lenght special P&G faders,
- Gain and pfl controls, adjustable low cut filter, variable from 30 to 300 Hz,
- Very effective RFI filters to enable the use in the vicinity of transmitters,
- A and B transformer balanced outputs with compressor / limiter,
- Headphones monitor output,
- Sifam VU instruments following the monitor selector,
- Talkback facilities with internal microphone,
- Built-in oscillator,
- Universal powering accepts 12 to 18 Volt DC for supply or charging,
- Internal batteries offer more than a full days work on one charge.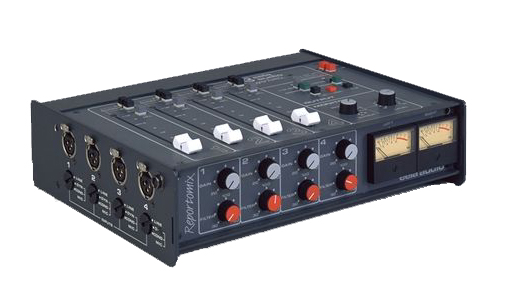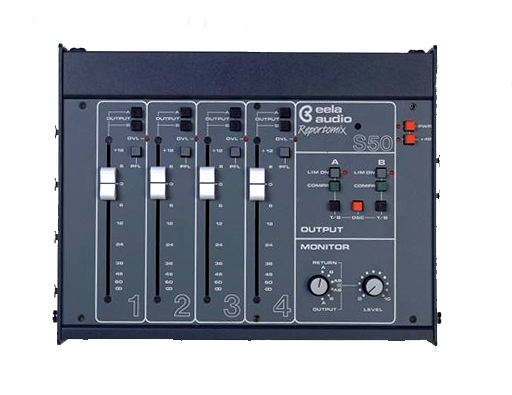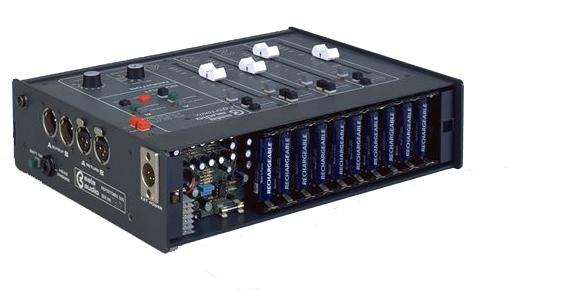 Technical specifications:

Inputs:
4 mic/line inputs, two return (monitor)
inputs, all transformer balanced.
Input impedance 1.2 kOhm for microphone, 6 kOhm for line, 12 kOhm for return.
Phantom power +48 V, individual per input switchable.

Outputs:
2 main outputs, transformer balanced, one stereo headphone output.
Output impedance 50 Ohm, output level +6 dBm nominal, +12 dBm maximum.

Gain:
maximum 76 dB.

Filter:
Low cut filter, 6 dB/oct, frequency variable from 30 to 300 Hz.

Limiter:
Slope variable in compression from 2:1 to 20:1, or 20:1 in limit.
Attack time 5 msec, release program dependant (.3 / 3 seconds).

Power:
10 x R6/AA cells, either dry cells or rechargeable batteries. Battery test switch.
Power consumption 60 mA.




Accessoires:
- S50 charger with NiMh rechargeable batteries
- Robust carrying case.
On popular demand again manufactured!