SRM radio on-air mixing desk
The SRM is the answer to the requirements of today's small scale radio stations. It is a complete, easy to operate, reliable high quality control centre for broadcasting. It is design for direct interfacing to semi-pro or domestic source equipment, the SRM offers almost all facilities and automatic functions which are normally found in much larger and much more expensive radio desks.

The SRM is supplied in a number of frame sizes and can be tailored to the customers need by a choice of different input modules e.g. microphone, line with or without e.q. and telephone input units with built-in hybrid. All inputs are available on RCA phono (cinch) connectors except the microphone inputs and main outputs which are on XLR's and balanced.
The latest addition is the USB input module and the capability of handling up to 7 telco modules.
An optional meter bridge is available with PFL/cue speaker and amplifier and 2 or 4 VU meters.

The SRM system can be completed with an EA854 6-way headphone amplifier / studio interface with separate audio circuits for presenter and guest.

download brochure download specifications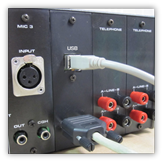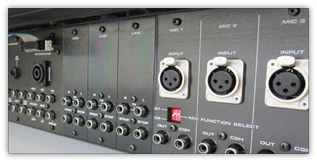 Eela S72U/E stereo input module with a USB connection panel in the back. These modules do have a USB port for playback and record and are plug and play for most standard, modern computers with Windows 98, 2000, XP, Vista, Linux or Mac-OS operating system. A list of compatible hard- and software is available if in doubt. It will also play audio files from your Apple I-pad connected via the CCK (Camera Control Kit) accessory.
There is also a D9 connector for fader start and an analogue stereo input that can be connected to the record output of the mixing desk.
This module is also available as retrofit on existing SRM mixing desk, you simply replace the connector panel of a S72 or S72/E module. For more info download the pdf.



.