SBM90 heavy duty radio on-air mixing desk
The SBM90 has become one of the most popular ON AIR mixers for local and community radio.
This professional and multi functional product combines its user friendly working surface (also for non-technical skilled people) with tremendous reliability.
The sophisticated design enables the SBM90 to be used in ON-AIR or Production studio's, Journalist Training Schools and even in Outside Broadcast facilities all over the world.

THE SBM90 IS AVAILABLE IN ONE FRAME VERSION: CH25 FOR MAX. 17 INPUT CHANNELS.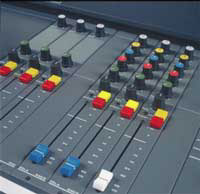 Available are separate modules for balanced microphone input with 48V phantom powering and balanced line inputs on UMC I/O connector with remote control.
Each SBM90 can be equipped with up to 7 Telco modules with or without built-in telephone hybrid.
The system can be completed with a EA863 on-air signal relays and a EA854 6-way headphone amplifier / studio interface with separate audio circuits for presenter and guest.

Downloads:

SBM90 brochure SBM90 specifications UMC connector diagram